This site contains affiliate links. Click here to read my disclosure policy.
Looking for a healthy diet plan? Maybe you are looking to change your eating habits,be healthier and lose excess weight, but are tired of restrictive diets that are just not enjoyable. Many diets leave you always wanting more. They can be super complicated, time consuming, expensive and just plain old hard to follow. If that sounds familiar, then you may want to consider the Mediterranean Diet or "Med Diet".
There are a number of diet plans out there. Many will "work", but few are lifelong, realistic and healthy ways of life. In general, no "one" diet is best for everyone. Some people do better on a keto diet. Others do better on a vegan. Some people have genetic or ancestral differences or gut issues that make either of those a poor fit. There are few, other than the Standard American Diet, that are bad. But, no diet plan, is helpful if you cannot stick with it.
That is were the Med Diet fits in.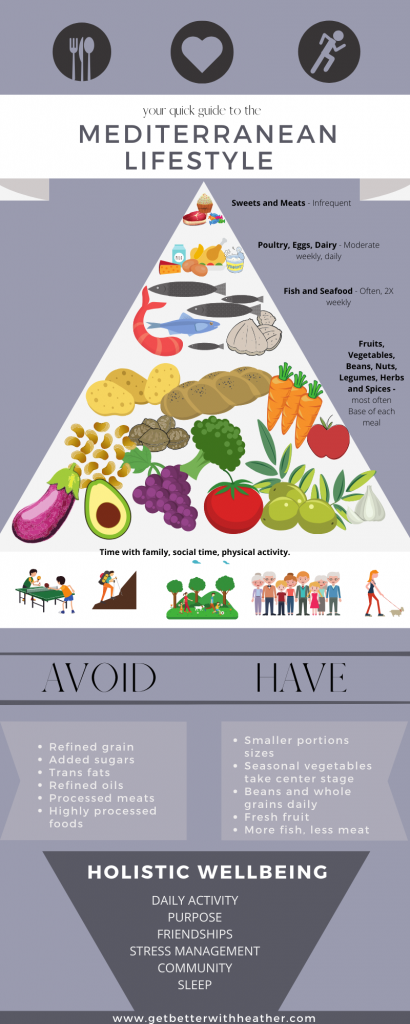 If you are at a point in your health journey, where you are struggling to find a plan that fits nicely into your life, is generally healthy and does not require an expensive investment, then The Med Diet might be the best option.
The Mediterranean diet has been studied extensively for its heart healthy benefits and is considered to be one of the best diets or lifestyles for longevity. You may be wondering why use both the term diet and lifestyle. The Med diet, in fact, is a way of life that incorporates more than just food. In my view, we can eat healthy, but if we do not LIVE healthy, then we are not optimizing longevity. Some people may be more sensitive to these lifestyle choices than others.
So, if you're looking for more than just nutritious eating,but are tired of "dieting" then you can learn a lot from the Mediterranean Lifestyle. Below is a quick guide infographic that outlines the basics.
If you want more detail, My Elevated Living e-book is a quick guide to the Mediterranean Lifestyle and provides more detail on how to adopt this way of life, what foods to include simply and easily into your daily living and a complete shopping list to make things even easier. Click below to get it sent directly to your e-mail.
This site contains affiliate links. Click here to read my disclosure policy.